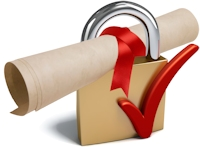 Welcome to AuthentiQual.com
Secure, on-line verification of paper and
e-Certificates
AuthentiQual.com currently provides two services:
Links to the on-line certificate verification pages for each of the awarding organisations which use the Quartz awarding organisation system.
QR technology (2-D barcodes) printed onto certificates, or embedded into e-Certificates for awarding organisations using the Quartz system (and awarding organisations) to enable providers, employers, and other parties to authenticate an e-Certificate or paper certificate using a smart-phone or other mobile device with a QR reader.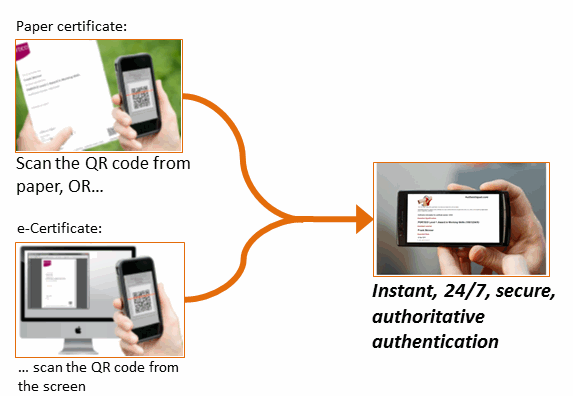 QR (2D-Barcode) Verification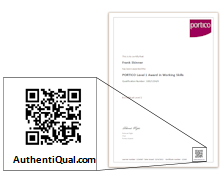 If you have a paper or e-Certificate which includes an AuthentiQual.com QR code (see the example on the right) then you can verify it simply by scanning the code with a mobile-phone QR app. (Click here for a list of QR apps for Android, iOS (iPhone) and Windows Phone.)
With a QR app running on your mobile phone, aim the camera at the QR code holding the phone about 1 foot away from the certificate. The phone will indicate when it has successfully decoded the QR pattern and will automatcially open a browser on the AuthentiQual.com mobile site verification page.
The verification page will include details of any corresonding record found on the awarding orgnisation's Quartz (or other, 3rd party) system.
If you have been presented with an e-Certificate, or paper certificate issued by one of the awarding organisations in the table below, then clicking on the corresonding link will take you to a web-site where you can verify the authenticity of the certificate. You will need to enter the Ofqual qualification reference number, the full name of the candidate and the certificate number (both as shown on the certificate) and given this informaition a cross-check will be performed to locate a corresponding record. (You may optionally include a date of birth to help establish the identity of the certificate holder.)